Opal & white Colors Acrylic Sheet
Zipper closure 1/5 zip athletic pullovers for men. Stretchy, lightweight, fast-drying fabric for superior performance. REGULAR FIT - US standard sizes. An athletic fit that sits close to the body for a wide range of motion, designed for optimal performance and all day comfort. FEATURES - Quarter zip closure;Thumbholes on long sleeves to keep them in place during workout
We offer a wide range of colored plexiglass acrylic sheets. Standard tinted colors including white, black, opal, red, green, yellow, ivory, brown, orange, blue and fluorescent acrylic sheets(pls refer to our color chains). Typically used for signs and lighting applications, these acrylic sheets can be translucent and opaque, translucent colors can transmit light when backlit. As the plexiglass increases in thickness, the amount of light passed through decreases.
Sign-color acrylic sheet is available from 1.8-30mm(1/16" -1" )thick and comes in standard sizes. Color sheet is suitable for small quantity processing, there are unmatched flexibility in color and surface texture, and complete product specifications for a variety of special purposes.
Product Description
Material

100% New Virgin Raw Mitsubishi Material

Thickness

1.8, 2, 3, 4, 5, 8,10,15,20, 30, 50,60,70mm (1.8-60mm)

Color

transparent(clear), white, opal, black, red, green, blue, yellow, etc. OEM color OK

Standard size

1220*1830, 1220*2440,1270*2490, 1610*2550,
1440*2940, 1850*2450, 1050*2050,1350*2000,2050*3050,1220*3050 mm

Certificate

CE, SGS, DE, and ISO 9001:2015

Equipment

Imported glass models (from Pilkington Glass in U. K. )

MOQ

30 pieces, can be mixed with colors/sizes/thickness

Delivery

10-30 days
General Cast Acrylic Sheet characters:
1) High transmittance up to 93%;
2) Light weight: less than half as heavy as glass;
3) Excellent weather resistance to against discoloration and deformation;
4) Exceptional impact resistance: 7-16 times greater impact resistance than glass;
5) Excellent chemical and mechanical resistance: resistance to acid and alkali;
6) Ease of Fabrication: Acrylic sheet can be s painted, silk-screened, vacuum-coated, and also can be sawed, drilled, and machined
to form almost any shape when heated to a pliable state.
Physical Property of Cast Acrylic sheet
PROPERTY

UNIT

VALUE

MECHANICAL

Specific Gravity

—

1.19-1.2

Roswell Hardness

kg/cm 2

M-100

Shear Strength

kg/cm 2

630

Flexural Strength

kg/cm 2

1050

Tensile Strength

kg/cm 2

760

Compressive Strength

kg/cm 2

1260

ELECTRICAL

Didlectic Strength

Kv/mm

20

Surface Resistivity

Ohm

> 10 16

OPTICAL

Light Transmittance

%

92

Refractive Index

—

THERMAL

Specific Heat

Cal/gr℃

0.35

Coefficient of Thermal Cortductivily

Cal/xee/cm/℃/cm

Hot Forming Temp

℃

140-180

Hot Defomation Temp

℃

100

Thermal Expansion Coefficient

Cmfcm/V

6×10-5

MISCELLANEOUS

Water Absorption(24Hrs)

%

0.3

Teste

%

None

Odor
Expansion and contraction
Taking an acrylic sheet 1000mm In length for example.
In summer (40℃) ,It will lengthen to 1002 In winter (-30℃), It will shorten to 997mm.
Production Line
Product Application
Our highest quality acrylic sheets have excellent clarity, weatherability and high strength. They can be thermoformed, cut, drilled, bent, machined, engraved, polished and glued. They can be applied to signage and advertising/medical/acrylic barrier/equipment/sanitaryware/architecture/interior design and furniture/automotive/recreation/office stationery/acrylic jewelry and so on.
Untrimmed, with PVC edges
Untrimmed sizes like 1250*1850mm, 1050*2050mm, 1250*2450mm, 1850*2450mm, 2090*3090mm

Trimmed, without PVC edges
Trimmed sizes like 1220*1830mm, 1000*2000mm, 1220*2440mm, 1820*2420mm, 2050*3050mm

Covered by logo craft paper
Logo can be our brand Jumei Logo Also OK to do OEM logo

Covered by plain craft paper
Paper is very easy to take off, imported from Malaysia, both plain paper and JM logo paper

Covered by PE film
Two kinds of PE film Transparent PE film White PE film, can make OEM logo too
Opal & white Colors Acrylic Sheet
We offer several categories of Opal & White colors acrylic sheet, It has the characteristic of diffuse reflection. Their major application is for signage and advertising or architectural decoration. Choose according to your needs.
Transparent Colors Acrylic Sheet
Transparent color acrylic sheets have the best light transmittance and shiny appearance, striking colors that makes them suitable for signage and advertising, store displays and architectural decoration among many other uses.
Translucent & Opaque Colors Acrylic Sheet
Translucent Colors Acrylic Sheet have diffuses when natural light passes through them. Opaque Colors Acrylic Sheet do not allow light to pass through while retaining the other characteristics of cast acrylic sheets. They all have shiny surfaces, you can use them for signage, furniture, tradeshow booths, store fittings, lighting and so on.
Tinted Colors Acrylic Sheet
Tinted Colors Acrylic Sheet have soft shades that filter out the light, resulting in a high gloss appearance. Widely used in sunscreens and products such as boat Windows and sunscreens to reduce glare.
Fluorescent Colors Acrylic Sheet
Fluorescent Colors Acrylic Sheet have rich color agility. The charm of fluorescent color acrylic sheet can be shown in natural light. It is a good choice for store fittings, point-of-sale displays and other indoor applications.
Color Chain Acrylic Sheet
We have nearly 70 colors to choose. You can chick the link to get our best quality samples.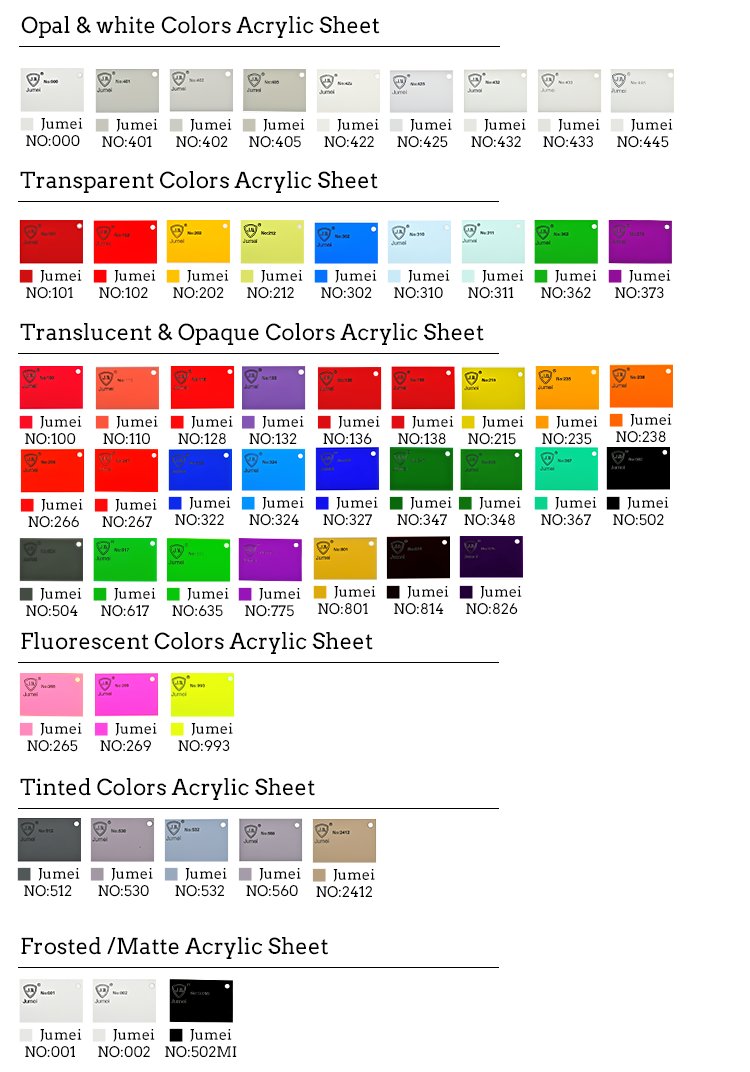 FAQ
Q: Are you a manufacturer or trading company?

A: We are a professional manufacturer with 20 years' experience in this field.

1

Q: How can i get the sample?

A: Small samples available are free, just freight collect.

2

Q: How long can I expect to get the sample?

A: We can prepare samples within 3 days. Usually, it takes about 5-7 days for the delivery.

3

Q: What is your MOQ?

A: MOQ is 30pieces/order. Each size, thickness.

4

Q: What colors can you make?

A: We have 60 regular colors, we can customize special color according to your requirement.

5

Q: Can we have our Logo or company name to be printed on your package?

A: Sure. Your Logo can be putted on the package by printing or sticker.

6

Q: What is your lead time for mass production?

A: Normally 10-30 days, depends on the size, quantity and season.

7

Q: What is your payment term?

A: T/T, L/C, PayPal, Western Union, DP

8

Q: How do you pack it?

A: Each sheet covered by PE film or craft paper, around 1.5 tons packed in a wood pallet.

9
ABOUT JUMEI
Jumei is the world-class cast acrylic sheets manufacturer &developer, our factory is located in Yushan Industrial Zone Shangrao City, Jiangxi province. The factory covers an area of 50000 square meters, the year productivity reaches 20000 tons.
Jumei introduces the world's leading level of casting acrylic automation production lines, and use 100% pure virgin raw material to ensure the best quality. We have decades' history engaging in the acrylic industry, and have a professional R&D team, Our factory and our productions all conform to international standard ISO 9001, CE SGS REACH and ROHS.
WHO WE ARE&WE HAVE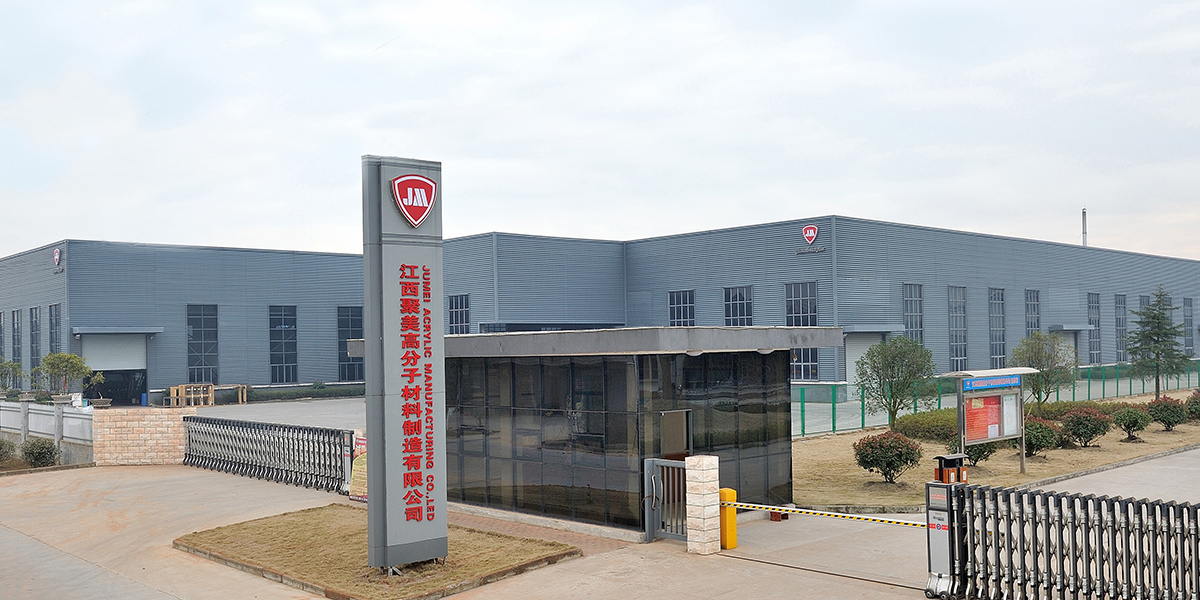 20 years cast acrylic manufacturer
12 years export experience
Advanced new factory, professional engineer team from Taiwan,we exported to more than 120 countries.
Fully-automatic production lines
Our advanced factory has six full-automatic production lines, which are able to guarantee the highest production efficiency, reliability and safety. We can currently reach 20K tons level as the maximum annual output, and in the coming future, we will constantly upgrade our capacities to meet the growing demands from our global customers.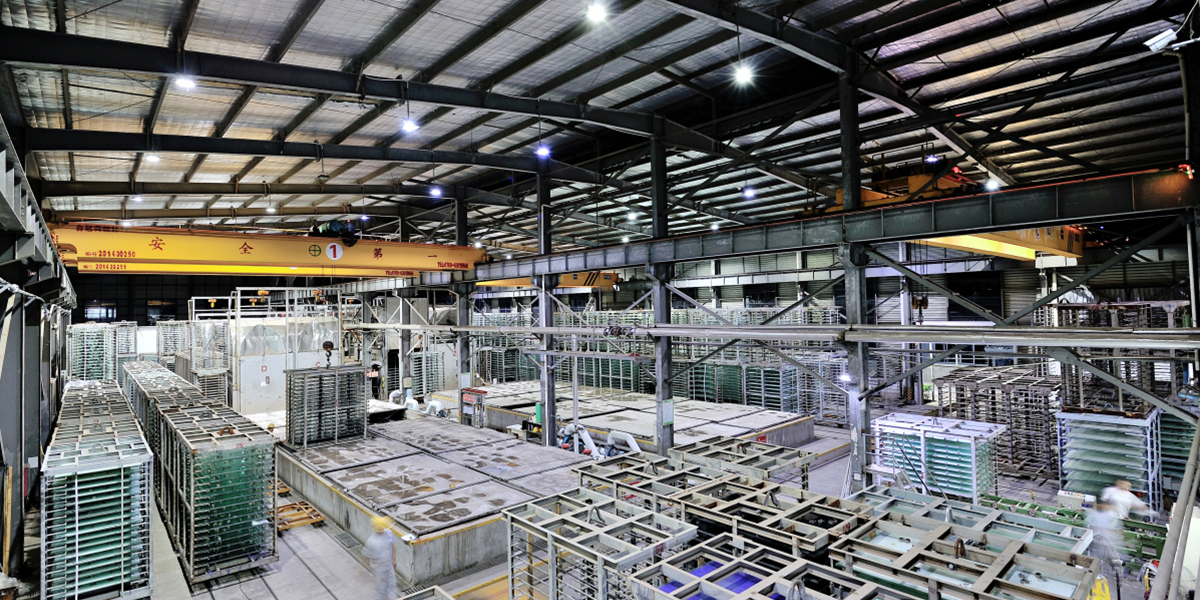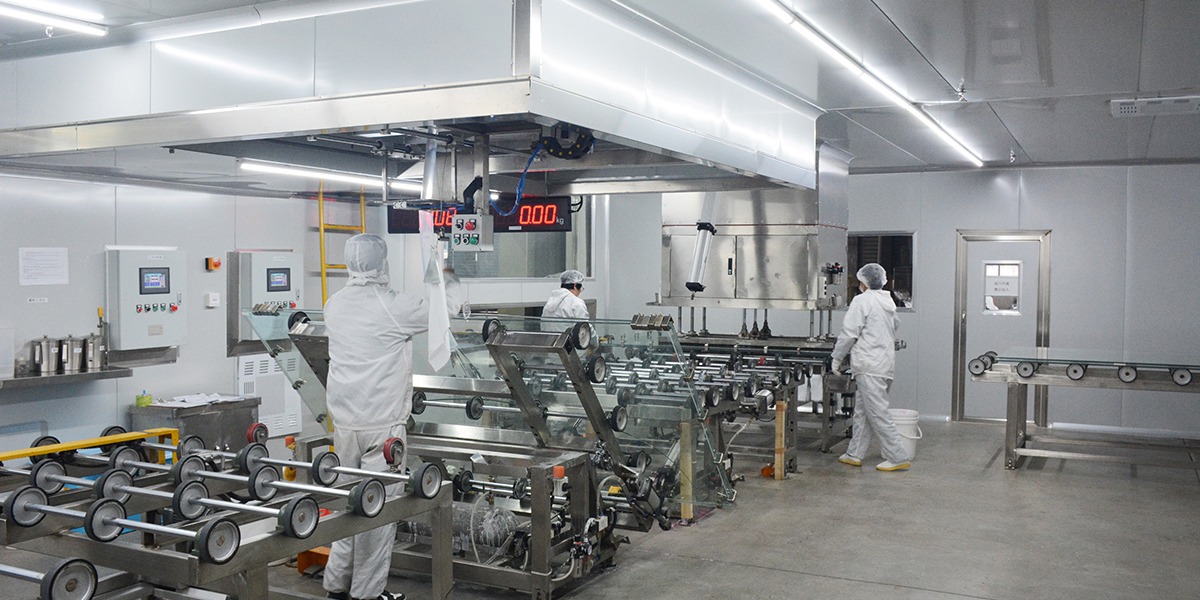 Dust-free workshop
To serve the goal of providing the top-quality acrylic sheet products, we have been upgrading our workshop: the dustproof workshop can guarantee the top-level quality of our products through the whole manufacturing processes.
In every day, we are dedicated to provide the top-level cast acrylic products and service for your most demanding needs.
----- JUMEI ACRYLIC